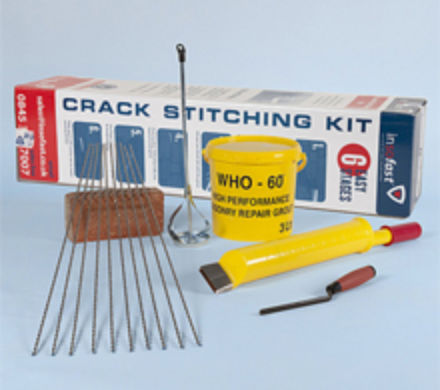 The handy Crack Stitching Kit from Insofast is now available in point of sale box printed with the instructions on how to stitch cracks in brickwork to reinforce masonry walls.
The stitching kit is proving popular with both merchants and with builders, who are looking for ways to expand profits by utilising cost effective masonry repair systems.
The kit includes:

10 helical reinforcing bars 1m long and with a 6mm diameter

1 tub of polymer modified masonry repair grout

1 grout applicator with adjustable high-flow nozzle

1 mixer paddle

1 finger trowel.
Instructions on the box show the how crack stitching walls can be done in 6 quick and easy steps. Additionally the Insofast web-site includes a series of animated videos to assist as an installation guide.
The wall is usually repaired by introducing the high tensile reinforcing bars into the bed joints of existing buildings to ensure the repair is fully concealed. In this way the pointing can be made good to match the existing finish of the wall
For more information on crack stitching or on our merchant/ reseller kits, please contact us on 0845 308 7007 or email sales@insofast.co.uk
22nd February 2012, 17:06