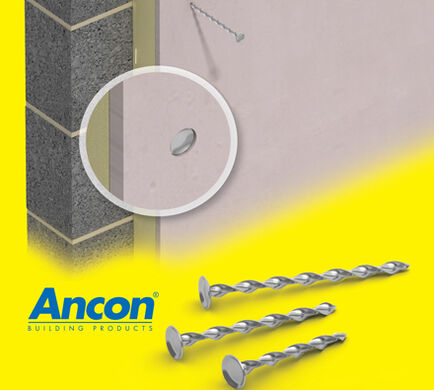 Ancon launches our range of fire-proof metal fixings that fasten insulated plasterboard panels to walls in internal solid wall insulation.
The Staifix Insofast ISF 18A anchor secures drywall and plasterboard insulation laminates to brick or block walls. The fastener has a countersinking dished head on a self-tapping Thor Helical shank. The shank has work-hardened blades that corkscrew and cut into a wide range of masonry and timber substrates.
The plasterboard fasteners are fixed quickly and easily into pilot holes using a special SDS setting tool. They are extremely easy and quick to fix and they can be used in conjunction with dot and dab adhesive or in place of it.
Most importantly, these reliable mechanical fixings ensure stability of the boards in the event of a fire to prevent escape routes from becoming blocked.
A spokesperson for Ancon stated that one can expect to see the Staifix Insofast drywall insulation fasteners your local builders merchants soon. We Know of no other mechanical fastener that is purpose-designed to hold plasterboard to masonry in the event of a fire.
For more information then please do not hesitate to contact us on 0845 308 7007 or email sales@insofast.co.uk
28th February 2012, 20:01